Motivation behind icons
Answer to the question of why I launched designing my own icons is very easy. I simply needed them. You may argue that there are many similar packages of icons, so there is no need to design new ones. I must admit I had not been able to choose from any of the packages of symbols and pictograms which are available on the internet since they did not fit my requirements.
Where do I look for inspiration?
My main source of inspiration is and always will be the great and timeless collection of AIGA pictograms as well as thousands of other great symbols created by Apple which are part of Mac OS X as a system fonts.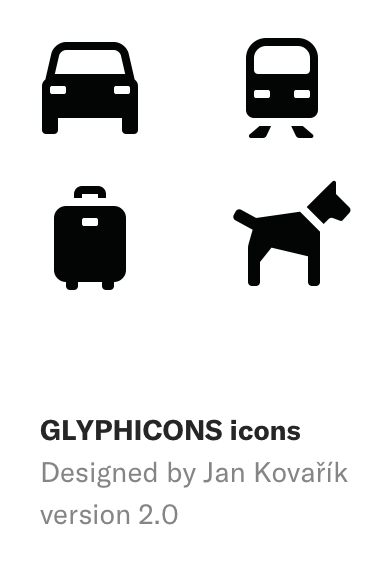 It seems almost impossible to surpass the symbols created by AIGA or Apple. However, I would like to follow up to their work and create a more modern and constantly evolving package of symbols which will have a wide range of applications not only on monitor screen.
Why GLYPHICONS
There are 3 main reasons which have led me to design GLYPHICONS.
Modern design
Most of the monochromatic icons that may be found on the internet are derived from outdated symbols and pictograms, which are good quality and well-known all over the world, but they do not represent the current design of the items any more.
Consistency
When I finally found the icons that would meet my requirements, it was not often possible to use them all since they did not dovetail. Therefore it was necessary to combine more resources, which was both time and financially demanding process.
Easy print
My working responsibilities also include the preparation of prints of all kinds, so a resource of a good quality symbols that may be colored, combined, magnified, etc. by just one click is absolutely crucial for me. Vectors have often been wrongly synthesized, in unnamed layers, etc.
The result
There was just one solution – I had to design my own set of symbols that would respect established symbols, but at the same time it would have a brand new and vivid look.
GLYPHICONS contain all basic symbols for everyday work, which includes graphic layouts of websites, mobile or web applications, creating wire-frames and also print.
The biggest benefits of GLYPHICONS are the perfectly prepared data, modern look and easy usability for graphics of all kinds.
Are you still hungry?
Here you can read: "Why I make GLYPHICONS".